So yesterday wasn't just one of those bad dreams that you'll get to eventually wake up from after all? I so wish it was.
I still can't make peace with the fact, and honestly not sure if I ever will, that Chloe Weil is no longer with us. She was a daughter, sister but also a friend to so many of us. Oh, and what an amazing friend she has been, which trying to comprehend all of this makes it all that much harder. I was never good with words, especially when trying to make a point. There is no point to be made here, other than I just want to share why this loss is so hard to cope with, and not just for me but so many of those whose lives Chloe has touched over the years of her life.
Chloe was a young soul with the most beautiful and most infectious smile one could ever see. She was so incredibly smart and creative. I don't even think there was anything she couldn't do. Her hands would sew or knit some mind-blowing pieces. She also knew her way in kitchen quite well as she was very much a foodie. If you ever wondered what's the place to go to eat, Chloe would not only tell you but I could guarantee that you'd be addicted to that place afterwards. I'll never forget the day when we were walking on NW 23rd in Portland. As we were crossing the street, she screamed out loudly, "Oh my God!" that I just jumped all freaked out thinking that we were about to get hit by a car or something. Come to find out, she noticed that few days later, a second location of Salt & Straw was going to open. I've never been nor heard of it till then. She raved about how amazing their ice cream was and so thanks to her, unintentionally I ended up becoming their first customer at that very same location, but also have become completely hooked. Chloe would also cook, bake and even make lollipops. Oh, and she was so great with words. Chloe also made me an apron for my birthday, as well designed this very same website.
I met Chloe back in 2010 when she joined our front-end team at ISITE Design in Portland, which made me super excited for not being the only female in our tech department anymore. She joined our team as a junior but damn, she was improving and getting all caught up to all of us faster than one would think. At first, she was very shy and seemed very much introverted. Yet, we clicked and it didn't take very long before we became super close and slowly started to learn how much in common we had. Somehow, we became very comfortable around each other and would open up and share pretty much everything together. I don't think there was anything off limits, and I loved that. We could talk for endless hours about anything – work, boys or life in general. Looking back, we especially bonded in Boston where I convinced her to come to An Event Apart with me. I am so glad she did and I know she was too. As much she hated the idea at first, I also made sure she would sit with me in first row. She has told me countless times how that week was one of her best and most fun ones that she will never forget about. We even talked about it the last time I saw her when she was in Boston, a little over .
Even though we had a great time spending the day together walking around the city, grabbing a bite to eat, drink some coffee and sharing many laughs, it was also very hard to see her so lost and sad about so many things. As always, I tried to be there for her by listening, providing any comfort or support that I knew I could as she has done for me so many times before. I knew she was sad but thought it would pass with time, that time would heal if not all, at least most of it. We were talking about visiting each other, go on road trips as we used to do when we both used to live in Portland. I just never thought that I'd never have more moments with her like we've had to date. All I can say that she wasn't the only one to be lucky have known her and be part of my life.
I wish I could or knew how to read the signs and just be more proactive. It brings me back to earlier this year when I told myself that I need to work on unplugging from my dependency on social media and try to be more physically connected with the world around me. I felt like I've made such progress but after yesterday, I realized that I have so much further to go. Now, even more so I am mad at myself that on , I didn't pick up the phone to call her to wish her happy birthday and say all the things I wanted to say over the phone rather than just a text. I don't even know why nor what I was doing by being so darn busy that I couldn't just get back to her when besides thanking me, she asked me whether I was doing well. And I completely spaced out ever getting back to her. 🙁
Those who know me, know that I don't really say "I love you" a lot, or very rarely. It's not because I don't love anyone but I believe that love could be better demonstrated by actions we do for others and how we treat each other. Words can easily become so meaningless when overused and actions don't match up with the things that have been said. The one thing that brings a little comfort to me right now is that the last time I saw Chloe and when we said goodbye to each other, we gave each other an immense hug and I actually told her "I love you, sweetie!", and I totally meant every little bit of it.
There are just countless things I loved and admired about her that I don't know even where to begin. She was such a giver and always had the perfect words of comfort or wisdom to provide when you needed it the most. All I know that I am going to miss the little things that made her so special and unique to me. The way she would use her hands when she was talking to you especially about something she was super excited about. OMG, and her signature pose!!! I am going to miss our little banters about our crushes, her bluntness and not being afraid to give me some tough love when needed. She was like my little sister that I'd do anything for to see her smile again. She was that person that I'd volunteer without hesitation to help her to work on a project before a deadline over a 4th of July weekend, not just so she wouldn't feel overwhelmed or because she would do the same for me, but because I did enjoy any given time I could have with her.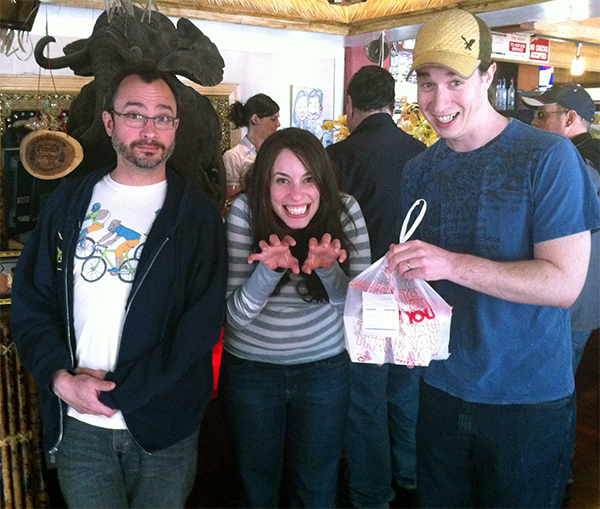 Chloe had her insecurities, like so many of us do. She wouldn't hide them but, she'd make fun of them and openly shared them with rest of us. I don't think she ever realized or wanted to believe that people that have ever met her, couldn't help to not feel drawn to her. That the room would literally lit up when she walked in with that smile and bubbly personality of hers. Some of my coworkers, after I shared the news with them, wrote me back how they'd remembered her and shared some of their favorite moments or encounters with Chloe that they've had. Just like this one:
One time, she sent out an email saying she had to leave early for emergency dental work. I ran into her on the sidewalk on my way back from lunch and asked, "Are you you okay?"

She said, "This is just how my face looks."

I said, "No… The dental work."

"Ooooh. Yeah. Just a filling came out." Or something. It was funny.
I am sure that anyone that has ever met Chloe may have similar stories to share and please do so whether it's with your friends, family or even here with me. Her sense of humor was so witty, sometimes a little dark or quirky but that was all that made Chloe so unique, special and very much unforgettable to all of us. She was our Wolverine.